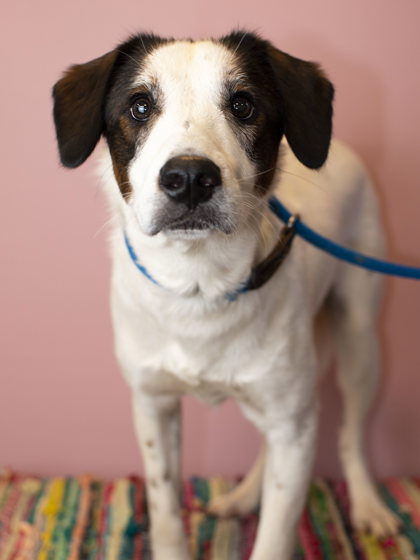 | | |
| --- | --- |
| Animal ID | 51653142 |
| Species | Dog |
| Breed | Collie, Smooth/Beagle |
| Age | 1 year 6 months 23 days |
| Gender | Male |
| Size | Large |
| Color | White/Brown |
| Spayed/Neutered | |
| Declawed | No |
| Housetrained | Yes |
| Site | HSCC |
| Location | Kennel-SX |
| Intake Date | 12/2/2022 |
| Adoption Price | $150.00 |
A note from Jackson's foster family:

The biggest and best thing, he is house trained and crate trained!
This fur baby is such a loving dog, so plan on getting plenty of cuddles and giving lots of belly rubs!
Also plan on getting some laughs, because he is a goofball as well!
Jackson loves other dogs, so another fur sibling or 2 would be great for him!
He loves being outside, playing, going for walks, but he also loves to chill on the couch and watch TV (yes he literally watches it) or he will lay on the floor so you can rub his belly with your feet.
He is obsessed with tennis balls, but is a little destructive with the other toys that aren't as tough.
A spot on your bed is essential because he is a total cuddle bug and likes to nuzzle your neck when you pet him.
He loves my daughter so I think he would do well with children, especially older ones.
He will need patience and slow introductions to visitors, as he is a great watch dog and is protective of his people, however, give him a couple minutes and your guest will be having to give belly rubs and probably having to toss the ball for him!