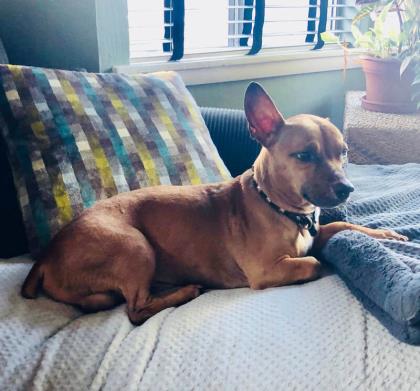 | | |
| --- | --- |
| Animal ID | 46289437 |
| Species | Dog |
| Breed | Dachshund, Standard Smooth Haired/Mix |
| Age | 6 years 3 months 3 days |
| Gender | Male |
| Size | Medium |
| Color | Tan |
As soon as you meet Coco, you'll understand he's super sweet and comforting, just like chocolate for your soul. Coco is approximately 4 years old, and our best guess is that he is a dachshund min pin mix. He is about 20 pounds and has a long body. One of his ears must have been injured when he was a small pup as it is very small and almost torn off. The other ear makes up for it though as it stands tall like a radar.

Coco was surrendered by his former owner because they couldn't afford medication he needed for his back. Coco's x-rays do show that he has a couple of compressed vertebrae in his spine, likely due to his body shape. However, his condition is manageable with lifestyle modifications. To keep his back issues at bay, Coco should be kept at an ideal weight, avoid jumping (he can use stairs or pillows to get on the couch or bed), and go for shorter walks (he does love walks, but can't do long walks). He would ideally be in a home without a lot of steps and with easy access in and out of the house. He has been living in a temporary foster home that is single level, and he has not had any flare-ups with his back.

Here are some more fun facts about Coco:
Coco gets along with everyone - dogs, kids, and adults. He is friendly and calm and loves anyone who wants to cuddle with him.
He interacts more with his foster humans than his foster dog siblings, but he gets along just fine with the dogs. He gives them space and doesn't show any food aggression with them at all.
We don't know how Coco reacts with cats, but he's so mellow that it's worth a shot to introduce him to a cat if you have one.
Coco is fully potty trained and can use a dog door, although he might have some initial marking in a new home.
Coco is a connoisseur of cozy. He will seek out the most comfortable dog bed or spot to lie down, and he likes to be covered by a blanket when he's snoozing.
Although he is content to sleep in his dog bed beside your bed at night, his preferred spot is cuddling with a human. If you are looking for a couch buddy, he's your guy. He'll get so cozy on you that you won't be able to get up - perfect excuse to continue your Netflix binge.
When you come back from being gone, Coco gets so excited to see you, he will bring you a toy and wiggle his back end to say welcome home.
Coco has good leash manners while walking and is not reactive to people or dogs.
Coco has the deep bark of a much larger dog, but only uses it when he thinks there is a security risk. Other than that, he is a quiet guy. Although if you take too long preparing his dinner, he will whine at you to let you know he's waiting.

Coco's ideal home is a calm, loving environment where he can relax and share his love for people. He would probably enjoy being an only dog. Because of his health, he doesn't always feel at his best and can get growly or snappy when triggered, so he should go to a dog experienced home.

Coco is neutered, up to date on vaccinations and microchipped. To meet or adopt Coco, fill out an application and a volunteer will contact you shortly.