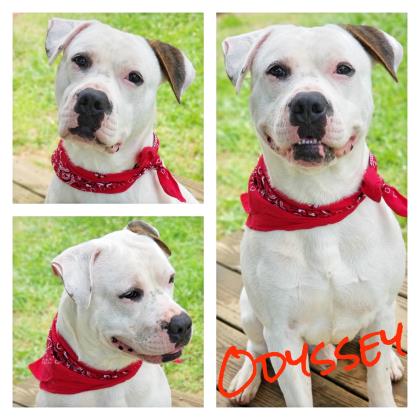 | | |
| --- | --- |
| Animal ID | 44886904 |
| Species | Dog |
| Breed | Bulldog, American/Boxer |
| Age | 1 year 4 months 3 days |
| Gender | Male |
| Size | Medium |
| Color | White/Brown |
| Spayed/Neutered | |
| Declawed | No |
| Housetrained | Unknown |
| Site | Charles Smithgall Humane Society |
| Location | Building B |
| Intake Date | 6/18/2020 |
Meet Odyssey
Oh my goodness, but Odyssey is one of the cutest dogs. He's just precious. We're so glad we were able to rescue him from a high-kill shelter. He arrived to our safety on June 18, 2020.
Odyssey is thought to be a one-year-old American Bulldog/Boxer mix. He weighs 53 lbs. Odyssey has a beautiful white coat with brown patches. His eyes are expressive and his broad and friendly face seems to wear a smile. Odyssey is a little shy at first, but he really loves attention. He's a gentle soul who came from a life of uncertainty. He thrives with positive reinforcement.
Odyssey walks well on a leash and enjoys walks in the woods where it's quiet and peaceful. Loud noises frighten him. He needs a strong, yet gentle hand to make sure he doesn't bolt. Odyssey will need a fenced yard. He loves romping and running in the yard, but if bored he's a digger. Making a hole is great fun.
Odyssey has not yet formally met other dogs, but he seems to enjoy their company when he meets them through the fence. He barks with happy barks, lots of tail wags and a socially acceptable submissive behavior welcomed by his doggie neighbors. Odyssey is afraid of cats though and will back away.
Odyssey is a wonderful young doggo who could sure use some TLC and a bestie companion. He's as beautiful on the inside as he is out. Just a big love bug. If you're looking for your best friend and companion, Odyssey may just be the one.
He will be neutered, micro-chipped and fully vetted before going home.
Call 706-865-4135 for information on additional health services provided as part of the adoption fee. If interested in one of our puppies or dogs, please submit an application online or at the shelter. Applications can be submitted online at: https://www.charlessmithgallhumanesociety.org/page/dog-adoption-application
Once an application is submitted online, you will receive an email saying your application has been successfully submitted. If you don't receive this email within 24 hours, please check to make sure all application fields were completed or please call our shelter at 706-865-4135. All adopters must complete an approval process which involves a reference check with current/recent vet and a brief home visit if located in the immediate area. We do permit out of state adoptions. Adopters MUST come to the shelter to transport their new family member home. We do not ship nor do we transport them to their new homes. Adoption policies and application procedures are detailed at the shelter website: http://smithgallhumanesociety.org/ under tab All Adoptable Animals.
Charles Smithgall Humane Society (CSHS) is a No kill shelter. Animals in our care remain safe with us until adopted. Resident animals are primarily owner relinquished and also accepted from local Animal Control. The facility usually is operating at capacity with a list of animals waiting for space to open.
Adoptions and meet and greets are being scheduled by appointment only. Please call our office, email us or complete an application and someone will be in touch just as soon as they can.
Location: 4823 Helen Hwy. 75N, Sautee, GA 30571, Phone: 706-865-4135
Email: smithgallhumanesociety@windstream.net
Our shelter in Sautee GA is located about 3 miles south of the alpine town of Helen in northeast GA.