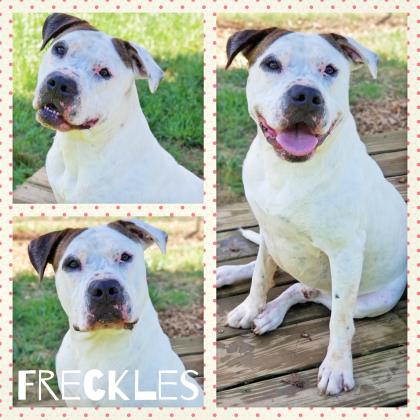 | | |
| --- | --- |
| Animal ID | 44886903 |
| Species | Dog |
| Breed | Bulldog, American/Mix |
| Age | 2 years 4 months 3 days |
| Gender | Male |
| Size | Large |
| Color | White/Brown |
| Spayed/Neutered | |
| Declawed | No |
| Housetrained | Unknown |
| Site | Charles Smithgall Humane Society |
| Location | Building B |
| Intake Date | 6/18/2020 |
Meet Freckles
Sweet, handsome, roly poly Freckles is just a big love bug who's led a very scary life before coming to our shelter. We rescued Freckles from a high-kill shelter. He arrived on June 18, 2020. We're glad he's here in our safety and care. Freckles was so scared and shut down that in an over-crowded shelter like the one he came from, he could have been one of the first to go down because he was too scared to make human connection... until he learned he could trust you.
Freckles is thought to be an American Bulldog mix. He's two years old and weighs 67 lbs. He's mostly all white with the cutest brown patches that cover his ears, sort of like he's wearing a hat. He wears the sweetest expression and his eyes hold a lot of innocence and expectation. He's absolutely adorable, like a big teddy bear.
Since arriving, Freckles has been smothered with positive attention and kindness and he's responding beautifully. Every day he's learning that not all hands hit and that having a safe place to sleep at night and plenty of food does wonders for the soul. Freckles is learning to trust. Once he knows that you're not going to hurt him, Freckles loves to give doggie kisses and tail wags. He loves being with people. One of his favorite things to do is sit with his person and be petted.
Freckles does best with a gentle approach. Sudden movements, especially over his head, loud barking and fire sirens scare him and he shuts down. He's not aggressive in any way, but he withdraws and moves away hoping that he won't get hurt. It's quite heartbreaking to see him this way, but with quiet encouragement and patient assurance, Freckles will engage when he thinks things are okay. When he does, we're able to see the big overgrown puppy that Freckles wants to be.
Freckles walks very well on a leash. He loves his walks. A fenced yard is a must for Freckles. Given his past, if he's bored or gets frightened, he'll dig furiously as if he's trying to get away. What a terrible life this beautiful boy must have led, but we are so happy he's adjusting every day and is able to let go of the baggage that is his past. We haven't yet tested Freckles with other dogs, but we do know that he's terribly afraid of cats and may do best in a home without them.
Freckles is a wonderful dog. With a kind and patient person, Freckles will blossom under their attention and consistency. Freckles is showing us every day the dog he wants to be - carefree, fun loving, and affectionate. He has so much love and loyalty just waiting to give to his person. He truly just wants to belong to someone who won't hurt him, but will show him what a loving life can be. Perhaps you'll be the one to give Freckles his chance at a happy life.
Call 706-865-4135 for information on additional health services provided as part of the adoption fee. If interested in one of our puppies or dogs, please submit an application online or at the shelter. Applications can be submitted online at: https://www.charlessmithgallhumanesociety.org/page/dog-adoption-application
Once an application is submitted online, you will receive an email saying your application has been successfully submitted. If you don't receive this email within 24 hours, please check to make sure all application fields were completed or please call our shelter at 706-865-4135. All adopters must complete an approval process which involves a reference check with current/recent vet and a brief home visit if located in the immediate area. We do permit out of state adoptions. Adopters MUST come to the shelter to transport their new family member home. We do not ship nor do we transport them to their new homes. Adoption policies and application procedures are detailed at the shelter website: http://smithgallhumanesociety.org/ under tab All Adoptable Animals.
Charles Smithgall Humane Society (CSHS) is a No kill shelter. Animals in our care remain safe with us until adopted. Resident animals are primarily owner relinquished and also accepted from local Animal Control. The facility usually is operating at capacity with a list of animals waiting for space to open.
Adoptions and meet and greets are being scheduled by appointment only. Please call our office, email us or complete an application and someone will be in touch just as soon as they can.
Location: 4823 Helen Hwy. 75N, Sautee, GA 30571, Phone: 706-865-4135
Email: smithgallhumanesociety@windstream.net
Our shelter in Sautee GA is located about 3 miles south of the alpine town of Helen in northeast GA.