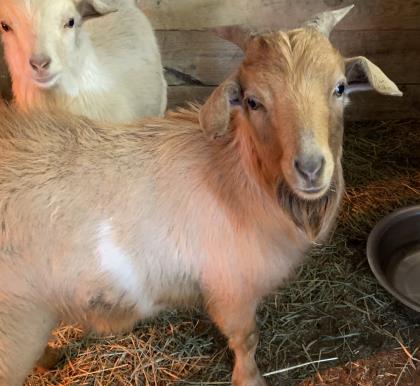 | | |
| --- | --- |
| Animal ID | 43799945 |
| Species | BarnYard |
| Breed | Goat/Goat |
| Age | |
| Gender | Male |
| Size | Medium |
| Color | Tan |
| Declawed | No |
| Site | Humane Society of Harford County |
| Location | Barn |
| On Hold | |
| Intake Date | 7/10/2020 |
| Adoption Price | $75.00 |
Nate needs some extra TLC and is available only to 501C rescue groups at this time.

History: Nate and another goat were surrendered to Animal Control by a woman who was just not equipped to care for them in terms of knowledge, property, and resources. We adopted both of the goats to a different woman in February. She kept the other goat, but returned Nate in July due to behavior concerns. She reported that he could be aggressive with people and her other animals (dog and turkey). She said there was no bite that drew blood, and reported much of the same things that we have observed at the shelter.

Temperament at Shelter: The close up pic of Nate's face really describes his whole personality. He is in your face, as close as can be. He is that awkward friend who doesn't know what to do with himself, but who (for some reason you can't really grasp) you still love - that friend...
If he hears someone coming, he leans up against the inside of his stall and just waits. And then, when you go to look in the stall for him, up pops his little head, and suddenly, you are face to face - that is how we first met, and I jumped about a foot!
If we let him out of the stall, he just continuously attempts to but his horns against things. At times it looks like he is itchy and likes to scratch his horns / head on surfaces. Other times, he is chasing us around like a goof, and it appears more like attention seeking behavior. We are able to grab his horns and safely stop him, but have to keep our guard up when he is loose.

Medical Concerns: Nate appears healthy, but needs to be neutered ASAP.