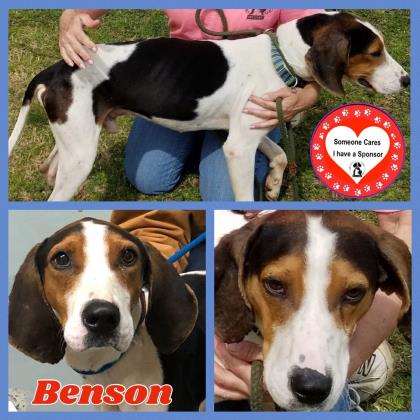 | | |
| --- | --- |
| Animal ID | 41217279 |
| Species | Dog |
| Breed | Coonhound, Treeing Walker |
| Age | 3 years 5 months 13 days |
| Gender | Male |
| Size | Medium |
| Color | Black/White |
| Spayed/Neutered | |
| Declawed | No |
| Housetrained | Unknown |
| Site | Charles Smithgall Humane Society |
| Location | Building B |
| Intake Date | 3/1/2019 |
| Adoption Price | $150.00 |
Meet Benson
Benson is a gorgeous pure bred Treeing Walker Coonhound with a tragic history. This beautiful boy was near death and terribly abused for three years before being seized by Animal Control. For all his young three-year-old life Benson was chained up outside where he was exposed to all kinds of weather and predators with no shelter, no food, no water, no protection and no love. Benson was being callously starved to death for absolutely no reason. Lucky for him and us, authorities found out and he was surrendered to AC. While AC can be a tough place for a dog, it was better than anything he'd ever known.
We were able to pull Benson from AC and he arrived at our shelter on March 1, 2019. His first few weeks were tough on him. You see Benson hadn't eaten for a long time and was so emaciated he couldn't hold food down and he was full of intestinal parasites, making things even tougher. He'd shiver all the time because he had no body fat to keep him warm. He wasn't sure what to think and most days he tucked himself to the back of his kennel in a small ball trying to disappear. However, day-by-day he's blossomed -- small meals helped him gain strength, an inside kennel and sweater kept him warm, and shelter staff and volunteers covered him with love and attention. Through it all, Benson showed tremendous bravery, welcoming everyone's affections and showing how grateful he was for the food, shelter and protection with wags of his tail and a hopeful demeanor.
Benson has a lot to learn about life. He's most likely not housetrained, but with patience and love we think he'd learn quickly. He loves being in a yard, but has no idea what a game of fetch looks like and will run in terror if a ball is thrown to him. He rides well in a car, but is uncertain how to get in by himself. He's trying so hard to be like other dogs, but his past will take some time to forget. Benson has zero aggression and instead exudes happiness and joy at being able to experience love and kindness for the first time.
Benson will thrive with a family that will treat him like family. A family or companion who will love and care for him and show him all those things that other dogs do every day. The family or person lucky enough to adopt him will get to experience Benson's journey of discovery. In turn, if you know anything about this exceptional breed, you'll get to experience a life of love, joy and loyalty. We're not yet sure how Benson does with other dogs or cats and we'll test for any potential adopter. Our first priority has been to get Benson healthy and he's well on his way.
If you're looking for a great family dog and lifelong companion, come meet Benson. We think you'll fall in love with him as much as we have.
Benson will be fully vetted and neutered before going home.
Call 706-865-4135 for information on additional health services provided as part of the adoption fee. If interested in one of our puppies or dogs, please submit an application online or at the shelter. Applications can be submitted online at: https://www.charlessmithgallhumanesociety.org/page/dog-adoption-application
Once an application is submitted online, you will receive an email saying your application has been successfully submitted. If you don't receive this email within 24 hours, please check to make sure all application fields were completed or please call our shelter at 706-865-4135. All adopters must complete an approval process which involves a reference check with current/recent vet and a brief home visit if located in the immediate area. We do permit out of state adoptions. Adopters MUST come to the shelter to transport their new family member home. We do not ship nor do we transport them to their new homes. Adoption policies and application procedures are detailed at the shelter website: http://smithgallhumanesociety.org/ under tab All Adoptable Animals.
Charles Smithgall Humane Society (CSHS) is a No kill shelter. Animals in our care remain safe with us until adopted. Resident animals are primarily owner relinquished and also accepted from local Animal Control. The facility usually is operating at capacity with a list of animals waiting for space to open.
Adoption hours are Tues-Sat 10-4 and Sun 1-4. Closed Mondays
Location: 4823 Helen Hwy. 75N, Sautee, GA 30571, Phone: 706-865-4135
Email: smithgallhumanesociety@windstream.net
Our shelter in Sautee GA is located about 3 miles south of the alpine town of Helen in northeast GA.

Follow us on Facebook
To stay informed on this animal as well as our new arrivals, adoptions and events follow us on Facebook at: https://www.facebook.com/smithgallhumanesociety.