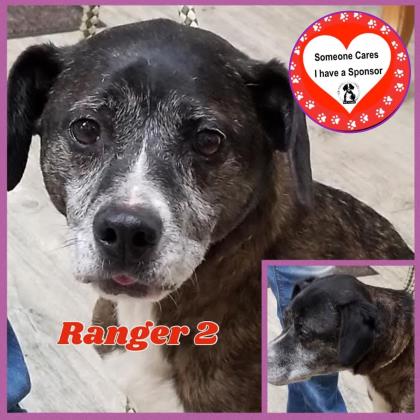 | | |
| --- | --- |
| Animal ID | 41215814 |
| Species | Dog |
| Breed | Plott Hound/Mix |
| Age | 8 years 2 months 18 days |
| Gender | Male |
| Size | Large |
| Color | Brindle |
| Spayed/Neutered | |
| Declawed | No |
| Housetrained | Unknown |
| Site | Charles Smithgall Humane Society |
| Location | Building A |
| Intake Date | 2/19/2019 |
| Adoption Price | $50.00 |
Ranger 2 has a Sponsor which reduces his adoption fee to $50
Meet Ranger 2
If this isn't the look of despair, we don't know what is. Ranger2 is an eight year old plot hound and he's lived a sad life on the end of a rope. You can see how tired and exhausted he is from the look on his face and the white around his muzzle. Years outside can do that to a dog. Ranger2 was adopted out years ago from our shelter and just returned on February 19, 2019. After so many years, we're glad he was returned to us, but we're saddened to learn he lived those years outside through every kind of weather - rain, snow, heat and cold. Hopefully, you can see why we strengthened our process to help ensure our adopted dogs and cats live lives filled with love, warmth and safety.
Ranger2 is terribly sad and doesn't quite know what happened or where he is. The noises of the kennel frighten him and he would love to get back to the quiet of a home. He's friendly towards people, if a little shy, almost as if he thinks he doesn't matter. But he does matter! His previous owner says he doesn't tend to like other dogs, but given he may have been outside to warn them off his property and he had to protect himself, his attitude could change in the right situation. He walks well on a leash and rides well in a car. Ranger2 deserves a new lease on life and we are determined to give him that. We failed him once, but not again. Ranger2 is receiving a ton of love and is blossoming under the attention he's receiving. He's not house-trained, but with consistency, patience and a lot of love, he will be able to learn what it takes to live in a house. If you can give Ranger a warm, safe place filled with love, come meet him. We're confident he'll make for a terrific companion. Ranger2 will be fully vetted before going home.
Call 706-865-4135 for information on additional health services provided as part of the adoption fee. If interested in one of our puppies or dogs, please submit an application online or at the shelter. Applications can be submitted online at: https://www.charlessmithgallhumanesociety.org/page/dog-adoption-application
Once an application is submitted online, you will receive an email saying your application has been successfully submitted. If you don't receive this email within 24 hours, please check to make sure all application fields were completed or please call our shelter at 706-865-4135. All adopters must complete an approval process which involves a reference check with current/recent vet and a brief home visit if located in the immediate area. We do permit out of state adoptions. Adopters MUST come to the shelter to transport their new family member home. We do not ship nor do we transport them to their new homes. Adoption policies and application procedures are detailed at the shelter website: http://smithgallhumanesociety.org/ under tab All Adoptable Animals.
Charles Smithgall Humane Society (CSHS) is a No kill shelter. Animals in our care remain safe with us until adopted. Resident animals are primarily owner relinquished and also accepted from local Animal Control. The facility usually is operating at capacity with a list of animals waiting for space to open.
Adoption hours are Tues-Sat 10-4 and Sun 1-4. Closed Mondays
Location: 4823 Helen Hwy. 75N, Sautee, GA 30571, Phone: 706-865-4135
Email: smithgallhumanesociety@windstream.net
Our shelter in Sautee GA is located about 3 miles south of the alpine town of Helen in northeast GA.


Follow us on Facebook
To stay informed on this animal as well as our new arrivals, adoptions and events follow us on Facebook at: https://www.facebook.com/smithgallhumanesociety.