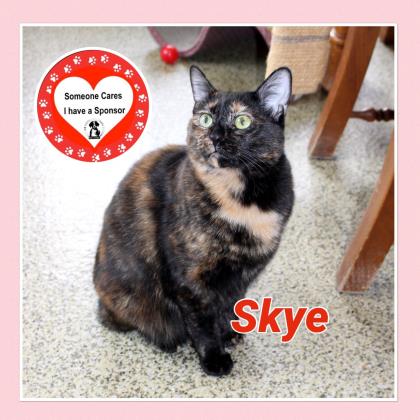 | | |
| --- | --- |
| Animal ID | 41211991 |
| Species | Cat |
| Breed | American Shorthair/Mix |
| Age | 1 year 9 months 22 days |
| Gender | Female |
| Size | Medium |
| Color | Brindle |
| Spayed/Neutered | |
| Declawed | No |
| Housetrained | Unknown |
| Site | Charles Smithgall Humane Society |
| Location | Cat Room |
| Intake Date | 8/19/2017 |
| Adoption Price | $25.00 |
Skye has a sponsor which makes her adoption fee $25
Meet Skye
Skye is a gorgeous 1.5 year old torti girl with emerald green eyes, with the softest of purrs. She is a stunning cat with the sweetest personality. She is always the first to greet you in the cat room, and will follow you around, vocally asking for a scratch.
After waiting seven long months as a kitten, Skye thought she found her forever family valentine when she was adopted on February 14, 2018. Unfortunately, this wasn't the case. It turns out Skye was afraid of the dogs in the house. She spent the next six months hiding from them! Her owner thought things would change over time, but they didn't, and Skye lived in a state of fear. Knowing this was no way for her to live, Skye was returned to our shelter on September 2, 2018.
Although Skye can now breathe a sigh of relief, she continues to hold out hope that a new family will see her beauty inside and out and give her a new and loving home...without dogs. Skye is spayed and fully vetted. If you are looking for a wonderfully calm, if somewhat shy cat, to add to your family, come check out our Skye.
Call 706-865-4135 for information on additional health services provided as part of the adoption fee. If you can offer a safe indoor home to our cat/kitten, submit an application online or at the shelter after a get acquainted visit. Application can be submitted online at: https://www.charlessmithgallhumanesociety.org/page/cat-adoption-application
Once an application is submitted online, you will receive an email saying your application has been successfully submitted. If you don't receive this email within 24 hours, please check to make sure all application fields were completed or please call our shelter at 706-865-4135. All adopters must complete an approval process which involves a reference check with current/recent vet and a brief home visit if located in the immediate area. We do permit out of state adoptions. Adopters MUST come to the shelter to transport their new family member home. We do not ship nor do we transport them to their new homes. Adoption policies and application procedures are detailed at the shelter website: http://smithgallhumanesociety.org/ under tab All Adoptable Animals.
Charles Smithgall Humane Society (CSHS) is a No kill shelter. Animals in our care remain safe with us until adopted. Resident animals are primarily owner relinquished and also accepted from local Animal Control. The facility usually is operating at capacity with a list of animals waiting for space to open.
Adoption hours are Thurs Fri 1-4, Sat 10-4 and Sun 1-4. Closed Monday, Tuesday, and Wedesday.
Location: 4823 Helen Hwy. 75N, Sautee, GA 30571, Phone: 706-865-4135
Email: smithgallhumanesociety@windstream.net
Our shelter in Sautee GA is located about 3 miles south of the alpine town of Helen in northeast GA.

Follow us on Facebook
To stay informed on this animal as well as our new arrivals, adoptions and events follow us on Facebook at: https://www.facebook.com/smithgallhumanesociety.