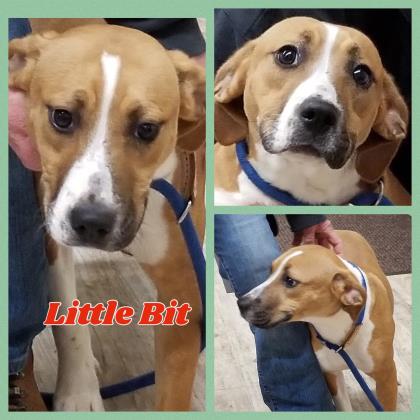 | | |
| --- | --- |
| Animal ID | 41208058 |
| Species | Dog |
| Breed | Beagle/Retriever |
| Age | 10 months 24 days |
| Gender | Female |
| Size | Medium |
| Color | Brown/White |
| Spayed/Neutered | |
| Declawed | No |
| Housetrained | Unknown |
| Site | Charles Smithgall Humane Society |
| Location | Building B |
| Intake Date | 1/14/2019 |
| Adoption Price | $100.00 |
Meet Little Bit

Little Bit's face says it all...she's scared and she wants a home. Little Bit and her three mates were surrendered to our shelter on January 14, 2019. Their owner was going to lose his home and had no way to take care of them anymore. He loved them enough to let them go, but Little Bit doesn't know what happened and has been struggling to understand.

Little Bit is a lab/beagle mix. She has beautiful markings and the sweetest and saddest of eyes. It's taken a little more than a month for Little Bit to come out of her shell and we love what we've learned. For anyone who's ever known a beagle or a lab in Little Bit you're getting the best of these dogs rolled into one - a super cool, super sweet and super loyal companion. Little Bit is about eight months old. She's small enough travel with and big enough to partake in all of your activities.

She's a little shy, which is to be expected since she's never been outside of her home until now. She's shown that she's friendly with people, other dogs and cats. She's active and is learning to walk on a leash. She enjoys getting out of her kennel to be in the fresh air and explore her surroundings. She's curious of all that's beyond the confines of her kennel and looks forward to the attention of volunteers. Little Bit is not yet house-trained, but she's smart and wants to please. We expect with some consistency and patience, she'll learn quickly.

Little Bit has so much potential. The person who opens their heart and home to Little Bit will be richly rewarded with a forever companion. Little Bit will be fully vetted before going home. Come meet our Little Bit and turn her from sad to glad. You'll be happy you did.

Call 706-865-4135 for information on additional health services provided as part of the adoption fee. If interested in one of our puppies or dogs, please submit an application online or at the shelter. Applications can be submitted online at: https://www.charlessmithgallhumanesociety.org/page/dog-adoption-application

Once an application is submitted online, you will receive an email saying your application has been successfully submitted. If you don't receive this email within 24 hours, please check to make sure all application fields were completed or please call our shelter at 706-865-4135. All adopters must complete an approval process which involves a reference check with current/recent vet and a brief home visit if located in the immediate area. We do permit out of state adoptions. Adopters MUST come to the shelter to transport their new family member home. We do not ship nor do we transport them to their new homes. Adoption policies and application procedures are detailed at the shelter website: http://smithgallhumanesociety.org/ under tab All Adoptable Animals.

Charles Smithgall Humane Society (CSHS) is a No kill shelter. Animals in our care remain safe with us until adopted. Resident animals are primarily owner relinquished and also accepted from local Animal Control. The facility usually is operating at capacity with a list of animals waiting for space to open.

Adoption hours are Tues-Sat 10-4 and Sun 1-4. Closed Mondays

Location: 4823 Helen Hwy. 75N, Sautee, GA 30571, Phone: 706-865-4135

Email: smithgallhumanesociety@windstream.net

Our shelter in Sautee GA is located about 3 miles south of the alpine town of Helen in northeast GA.

Follow us on Facebook
To stay informed on this animal as well as our new arrivals, adoptions and events follow us on Facebook at: https://www.facebook.com/smithgallhumanesociety.